All-On-4 – San Antonio, TX
Secure Your Denture with Dental Implants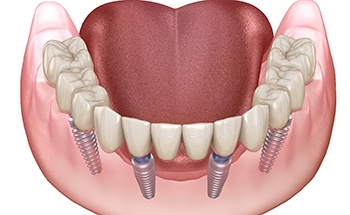 If you're missing all your natural teeth in one or both arches, you've probably tried conventional dentures to rebuild your smile. Although they've undergone several improvements over the years, they will always have their limitations. You don't need to settle for less than the best. You can enjoy the security of dental implants to support your denture while only needing 4 posts. All-On-4 in San Antonio resolves the common complaints of traditional dentures while also streamlining the process of restoring your smile. After just one appointment, you can have a nearly perfect replica of your natural teeth.
How Do All-On-4 Implants Work?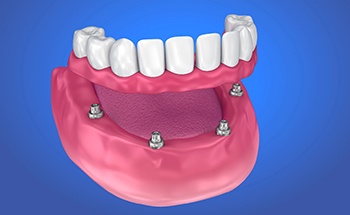 A traditional denture is held to your gum tissue using suction or an adhesive. Nowadays, conventional dentures look and feel more realistic; however, you'll always deal with some degree of slipping and irritation.
As an alternative to traditional dentures, you can stabilize your smile with 4 dental implant posts. Titanium posts are surgically placed into your jawbone to serve as new tooth roots. These anchor your denture in place, so you'll never need to worry about slipping or irritation ever again. Although fewer posts are used than with regular implant-retained dentures, you'll enjoy the same benefits for superior results.
Am I a Candidate for All-On-4 Implants?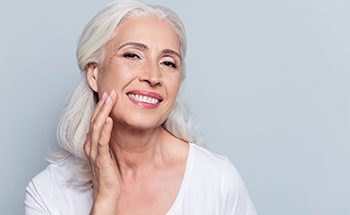 If you're not satisfied with a traditional denture, you might be a candidate for All-On-4. Generally, if you have good oral and general health, you're a candidate for dental implants in San Antonio. Even if you've previously been told they aren't the right option for you because of bone loss, you can still restore your smile. The posts are placed into the thickest parts of your jaw, eliminating the need for bone grafting.
What are the Benefits of All-On-4 Implants?
Using dental implants to secure your denture allows you to enjoy a variety of benefits that aren't possible with a traditional treatment, including:
Over a 95% success rate to last for decades.
Looks natural to smile confidently.
Regain as much as 70% of your natural biting force.
Supports your facial tissues for a youthful appearance.
Preserves your jawbone's density.
Eliminates slipping and irritation.
No need for bone grafting.
Complete your smile in 1 day.
Long-term, cost-effective solution.
All-On-4 VS Traditional Dental Implants
A traditional implant-retained denture involves a multi-step treatment process that can take several months to complete. Before you can begin your journey, patients often need additional procedures, like bone grafting. All-On-4 streamlines the process to replace your missing teeth in 1 day without compromising the results.
There's no need for bone grafting, so you can immediately undergo your implant placement surgery. You'll also be fitted with a temporary denture the same day, so you won't need to go without any teeth while you heal. After your bone has fused to the posts, you're fitted for your permanent denture.
Complete Your Smile Today
If you're ready to enjoy a solution that closely mimics your natural smile, it's time to see if you're a candidate for All-On-4. Contact our office today to schedule your consultation.