Cosmetic Dentist Creates Beautiful Results in San Antonio, TX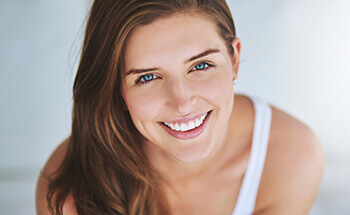 If you always find yourself hiding in the back of pictures or covering your mouth when you laugh because of embarrassment, please turn to our dedicated dental team at Jones & Knight, DDS. The truth is, even healthy teeth fall victim to unpleasant aesthetic flaws like stains, chips, cracks, and more. Thankfully, these imperfections don't have to be a permanent addition. With the help of cosmetic treatment options, Dr. Troy Jones and Dr. George Knight transform your look for the better and give you back the healthy sense of self-confidence you deserve. Contact either of our two locations in San Antonio, TX today to schedule an appointment!
At-Home Teeth Whitening
If your pearly whites aren't exactly living up to their name, our customized take-home kits can be a big help. Dr. Jones and Dr. Knight provide the high-grade bleaching gel and customized oral trays – your job is simply to wear both together for a certain amount of time each day on your own schedule. This can be done while watching TV or doing chores. In just a few weeks, your smile will be noticeably brighter and cleaner-looking.
Tooth-Colored Fillings
Tooth-colored fillings are a big improvement over their traditional amalgam counterparts in many ways. The composite resin material we use can be shaded to closely match your natural enamel, with results so indistinguishable you may not even remember where the filling's actually located after some time has passed. Additionally, the lack of metals means you won't experience sensitivity to temperature changes! With the proper amount of oral hygiene and professional maintenance, patients enjoy tooth-colored fillings for 15 years or longer.
Porcelain Veneers
Porcelain veneers are very thin restorations designed to fit over just the front surface of your teeth hiding years of flaws at once behind a new, natural look! Our team may even recommend them for patients struggling with minor gaps and/or misaligned teeth who are in need of "instant orthodontics." Veneers are precisely designed to complement your unique look, and they're actually more resistant against gradual staining than natural teeth, which means you maintain improvements much longer.
All-Ceramic Restorations
Many older patients are familiar with the traditional silver and gold restorations stand out noticeably in a natural smile. Here in San Antonio, we're happy to provide a more ideal blend of health and aesthetic benefits with our all-ceramic crowns, bridges, inlays, and onlays. This quality material is exceptionally close in appearance to natural enamel; it even reflects light in the same way. Its biocompatible nature also means patients with allergies or sensitivities to common metals enjoy them without discomfort.
Invisalign® Clear Braces
Noticeable metal braces aren't the only path towards beautifully straight teeth you've been dreaming about. Invisalign can create great results too, and in a subtler way with the help of clear, customized aligners.