Tooth-Colored Fillings – San Antonio, TX
Flawless Repair for Your Cavities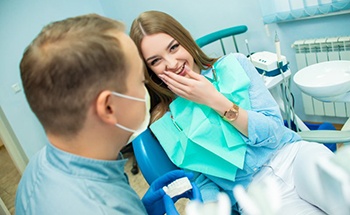 For several generations, the only material dentists used to fill cavities was amalgam, or a mix of different metals such as silver, tin, and mercury. Not only were these fillings highly noticeable in your smile, but they could cause oral health problems in the future. Here at Jones & Knight, DDS, your dentist in San Antonio uses tooth-colored fillings instead. As the name implies, these fillings can be customized to blend in with the rest of your smile, resulting in a more pleasing appearance as well as improved oral health.
What Are Tooth-Colored Fillings?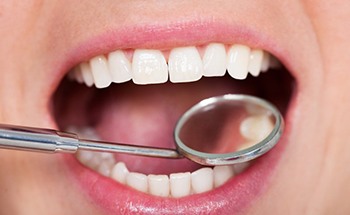 Thanks to the latest advancements in dental technology, metal is no longer the standard for preventing decay from further damaging teeth. Instead, we use composite resin, a puttylike substance that can be custom shaded to match the color of your existing enamel. This biocompatible material is made of fine particles of glass and plastic. Because composite resin is able to form a direct bond with your tooth, it offers countless benefits over traditional metal fillings.
Benefits of Tooth-Colored Fillings
The most apparent advantage of tooth-colored fillings is the ability to resemble your natural teeth almost perfectly, repairing your cavities without drawing attention to them. However, they offer more than just aesthetic benefits. These fillings also:
Preserve more of your natural tooth structure. Metal fillings can't chemically bond with your tooth, so more enamel had to be carved out in order to make room. Tooth-colored fillings, on the other hand, require little, if any, removal of your natural tooth structure.
Cause less sensitivity to hot and cold temperatures. Without a strong bond to your tooth, metal fillings aren't as effective at blocking off the sensitive nerves inside your tooth. Composite resin forms a powerful barrier that protects these nerves, minimizing sensitivity.
Protect against further decay. Due to the direct bond created by the composite resin, the inner chamber of your tooth is sealed off against harmful bacteria, reducing your risk of developing cavities in the future.
The Process of Filling Your Cavities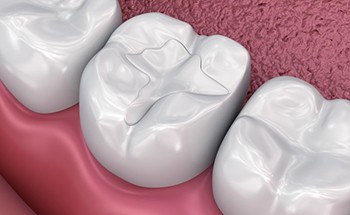 When you visit us every six months for a checkup and cleaning, we may discover that you have a cavity that needs to be filled. We'll do our best to make the process as quick and stress-free as possible. First, we apply a local anesthetic to numb the area. Next, we remove the decay and sanitize the tooth. Using a special chart to determine which color of the composite resin we should apply, we fill the cavity layer by layer until the tooth is fully built up. The resin is hardened quickly with an ultraviolet curing light. We'll check to make sure the filling fits within your bite before giving the tooth one last polish.
If you can tell you have a cavity that needs treatment, or if you have a metal filling you want to be replaced with a tooth-colored alternative, call our San Antonio office today!