Preventive Dentistry Protects Smiles at Jones & Knight, DDS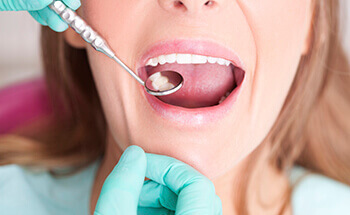 Prevention is key when it comes to enjoying a healthy, happy smile for life. Dr. Troy Jones and Dr. George Knight are always here to help when you're facing dental problems, but we'd prefer to work with you to stop them from even happening in the first place. That's why our San Antonio, TX team offers several services that are designed to protect and support teeth and gums! Patients of all ages are welcome, and two locations in The Medical Center at Oak Hills Place and Village at Stone Creek are available for additional convenience. Contact us today to schedule your first visit!
Check-ups & Cleanings
How long has it been since your last check-up? Patients of all ages should be attending appointments every six months, or twice each year. In fact, our San Antonio team can see your whole family all at once for maximum comfort and convenience! During these visits, our doctors and staff members learn everything we can about your unique smile providing a thorough examination and noting areas of damage or decay that may have popped up since the last check-up. Then, we work with you to devise a plan of action to address these concerns with quality treatment taking into account your budget, schedule, and personal preferences.
One of the most common threats to oral health is the development of pesky plaque (a sticky, colorless, and bacteria-filled substance) in the mouth. While initially not too difficult to remove with brushing and flossing, plaque can quickly develop into tartar, a much harder deposit that stubbornly stays in place and causes tooth decay. During routine appointments, one of our talented hygienists will clean away plaque and tartar and remove small stains from enamel leaving your smile shining.
Children's Dentistry
Your children are a very important part of your family, and our team works hard to give them a dental experience that's fun, happy, and comfortable. With the help of routine, gentle check-ups and cleanings, Dr. Jones and Dr. Knight keep a close eye on developmental issues that might crop up, and protective measures like dental sealants are available to keep out decay. We look forward to helping kids get started on the lifelong path towards great oral health!
Nightguards
Bruxism (more commonly known as teeth grinding/clenching) can be a serious issue for adults who suffer from daily stress. Even worse is the fact that it typically occurs while the patient is asleep, giving them little recourse for overcoming the problem on their own. Thankfully, our team can provide relief and protection in the form of a customized nightguard. This device provides a valuable barrier for teeth against the ill effects of grinding, allowing you to rest easy.
Athletic Mouthguards
If you participate in a sport that involves possible contact with other players or hard surfaces, we strongly recommend using a mouthguard (also known as a sportsguard). These oral appliances protect vulnerable teeth and soft tissue from injury. Instead of relying on a store-bought, one-size-fits-all model, talk to our doctors about a customized model! We design the perfect fit for you or your child that provides added comfort and ease of use.
Oral Cancer Screenings
Oral cancer is a serious health concern – in fact, only half of the tens of thousands of patients diagnosed each year go on to live more than five years. This happens because the disease isn't identified until it's already reached advanced stages. Here in San Antonio, our team provides routine oral cancer screenings a vital part of regular evaluations. If we locate any concerning symptoms that indicate the presence of cancerous cells, we can help you take the next steps towards diagnosis and treatment.
Gum Disease Treatment
Gum disease (also known as periodontal disease) affects a majority of the population, causing tissue deterioration and tooth loss if it's left untreated for too long. Our team takes this threat very seriously, and we'll provide diligent periodontal screenings during regular visits. If we discover worrying signs, there are treatment options available that revitalize oral health, including in-depth cleanings and antibiotic therapy.