Dental Implants – San Antonio, TX
The Gold Standard of Tooth Replacement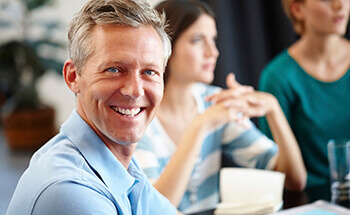 Dental implants have completely transformed the world of tooth replacement, allowing patients to regain a complete, strong smile that's virtually indistinguishable from the one they lost. The secret is their structure – instead of restoring just the crown (the white portion on top of the gum line) of the tooth, implants replicate the tooth root as well as allowing patients to maintain better oral health in addition to a functional, naturally beautiful appearance. To experience the joys of having your smile fully restored, contact us in San Antonio to speak with one of our team members to schedule a visit with either Dr. Troy Jones or Dr. George Knight!
Benefits of Dental Implants
Hands down, the dental implant process stands in a class of its own when it comes to benefits. As previously mentioned, it addresses the problem of a missing tooth at the core of the issue: the tooth root, which is a perk that no other form of tooth replacement provides.
When you undergo the implant process from either Dr. Jones or Dr. Knight, a cylinder-shaped titanium post will be surgically inserted into your jawbone. Then, as the treatment area heals, the new fixture will fuse with the existing bone through a process called osseointegration. The result will be a sturdy and lasting foundation, but there are yet more advantages:
With proper care, a dental implant can last 30 years or more.
By being inserted into the jawbone, the dental implant helps to prevent bone loss.
Restored dental implants can be treated like natural teeth, which means you can maintain a normal diet and your usual oral hygiene regimen.
Indications for Dental Implants
The dental implant procedure has a 95% success rate, and that can greatly be attributed to the careful approach that is taken to the process. At Jones & Knight DDS, we'll perform a thorough examination before any work commences to make sure a dental implant is right for you.
We'll check to make sure you have sufficient oral health and enough healthy jawbone to contribute to a successful procedure. As long as these primary stipulations are met, the dental implant process is a viable option for any patient 17 years of age or older with missing teeth. Depending on how many teeth are missing, there are three main replacement options.
Missing Single Tooth
To replace a single tooth, Dr. Jones or Dr. Knight will carefully insert the dental implant. Afterwards, you'll be allowed time to heal sufficiently. Later, we'll invite you back to one of our San Antonio offices to have a titanium abutment added, an asset that also plays a critical role in the process by allowing a final restoration to be attached in a secure yet aesthetically pleasing way.
Missing Multiple Teeth
For multiple missing teeth, we can either place an implant-retained partial denture or bridge. By relying on a dental implant for stability and security instead of the surrounding teeth, both methods provide a way to have your smile restored in the most functional and aesthetically-pleasing way possible.
Missing All Teeth
If you're missing a full set of teeth, then we also offer an implant-retained full denture. Dr. Jones or Dr. Knight will place four-to-six implants along each arch in a strategic manner to ensure the most secure yet least invasive placement process possible.
Understanding the Cost of Dental Implants
The only way to receive an accurate estimate of the cost of receiving a dental implant is to visit one of our offices for an examination and a consultation. This will give our dentists an opportunity to determine, if you're deemed a good candidate for the procedure, how many dental implants in San Antonio you'll require, the type of final prosthetic needed and other key details that will be factored into the price. Once we provide you with the information you need, you can then make a final decision about proceeding to have your smile and lifestyle completely restored.
The first step is for you to reach out to us to request your initial visit today!