Dental Implants – San Antonio, TX
The Gold Standard of Tooth Replacement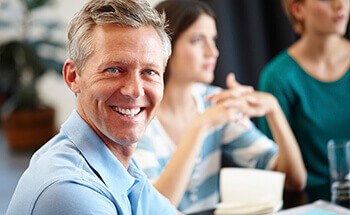 Dental implants have completely transformed the world of tooth replacement, allowing patients to regain a complete, strong smile that's virtually indistinguishable from the one they lost. The secret is their structure – instead of restoring just the crown (the white portion on top of the gum line) of the tooth, dental implants in San Antonio replicate the tooth root as well, allowing patients to maintain better oral health in addition to a functional, beautiful appearance. To experience the joys of having your smile fully restored, contact us today to speak with one of our team members and schedule a visit with either Dr. Troy Jones or Dr. George Knight!
Why Choose Jones & Knight DDS for Dental Implants?
Dental Implants Placed & Restored In-House
Member of the International Team for Implantology
Dental Insurance Maximized & Financing Plans Available
What Are Dental Implants?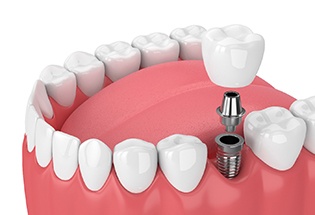 A dental implant is a cylinder-shaped titanium post that is designed to mimic the root of a natural tooth. Once we surgically insert the implant into your jaw, it fuses with the surrounding bone and tissue in a process called osseointegration. Then, we attach a metal abutment on top that allows us to secure your custom-made crown, bridge, or denture and complete your smile.
As the only solution that rebuilds missing teeth from the roots up through the crown, dental implants truly are the gold standard of tooth replacement. They're able to look, feel, and function exactly like the pearly whites you used to have. In fact, you might eventually forget which of your teeth are real and which are implants!
The 4-Step Dental Implant Process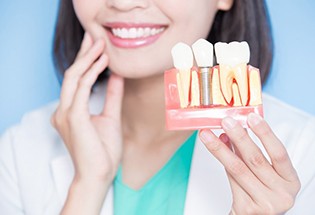 Because of the advanced training our dentists have undergone, we can perform the entire dental implant process in one convenient location – unlike many general dentists who have to refer their patients to outside specialists. While getting dental implants requires multiple appointments that can span several months to a year or longer, their long-term benefits are worth waiting for. Everyone's journey differs a little, but the four basic steps of the process are the same for everyone. Let's take a closer look at how dental implants work in San Antonio.
Initial Dental Implant Consultation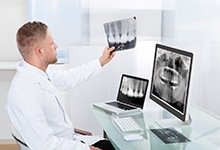 The first step in reconstructing your smile is to attend a dental implant consultation. At this appointment, Dr. Jones or Dr. Knight will closely examine your mouth and facial structures using cutting-edge dental technology. From there, they'll determine your candidacy for dental implants. Some patients may need to undergo preliminary work (i.e., bone grafting, gum disease therapy, tooth extractions) before they can receive implants. Once these procedures are taken care of, we can schedule your dental implant surgery.
Dental Implant Surgery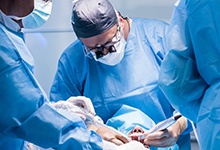 The implant placement surgery is a fairly simple one. After your implant dentist in Stone Oak numbs your mouth, they make small incisions in your gum tissue to access your jawbone. The implants are inserted at precise locations and angles, and then your gums are sutured shut. To maintain the shape of your gums and shield your implants throughout the healing process, a protective cap is placed over them.
Dental Implant Osseointegration/Abutment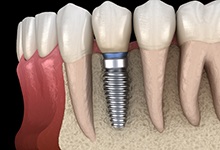 You'll spend the next three to six months waiting for osseointegration to take place. This process – by which the implant posts merge with your jawbone – is what makes dental implants in San Antonio so reliable.
Delivery of Dental Implant Restorations
Benefits of Dental Implants
Hands down, dental implants stand in a class of their own compared to other tooth replacement methods. The sturdy foundation they forge with your jaw allows them to fulfill every function of your natural teeth while lasting exponentially longer than dentures or bridges alone. Here are some of the life-changing benefits of dental implants in San Antonio that you can look forward to.
Day-to-Day Benefits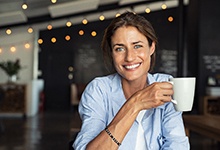 No slippage – Traditional dentures have a reputation of shifting or even falling out if they don't fit properly or if you attempt to chew particularly crunchy or sticky foods. Teeth that are secured onto dental implants, on the other hand, are anchored in place. You can count on them to remain stable at all times.
Restored chewing power – Bridges and dentures only bring back the part of the tooth that sits atop the gums, so it can be difficult or even impossible to chew certain foods. By replacing the root structure, dental implants in San Antonio let you eat all of your favorite foods with the same ease as real teeth.
Simple maintenance – Instead of having to take your prosthetic out of your mouth and learn a whole new cleaning regimen, you can typically care for dental implants with the same methods as natural teeth – brushing, flossing, and rinsing with mouthwash. Your oral hygiene routine should be virtually the same as it was before tooth loss.
Health Benefits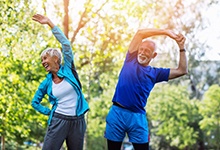 Improved oral health – Because dental implants are so easy to clean, they reduce the buildup of plaque, tartar, and bacteria in the mouth. This in turn minimizes the risk of decay and infection that could jeopardize the success of your implants.
No gum sores or tooth sensitivity – To place a dental bridge, the teeth on either end of the gap have to be permanently filed down for support, leaving them with a higher risk of sensitivity, decay, and breakage. Dentures are notorious for rubbing against the gums and creating irritation or sores. Dental implants prevent both of these issues by being self-supporting and firmly fixed in the jaw.
Jawbone preservation – Without the roots of your teeth, the jawbone gradually starts to deteriorate, leading to not only a wrinkled facial appearance, but an increased risk for gum disease and additional tooth loss. Dental implants stimulate the jawbone exactly like tooth roots do, preventing and even reversing bone loss.
Long-Term Benefits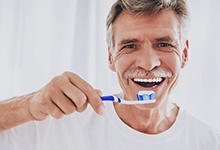 Results you can trust – After your implant dentist in San Antonio has finished placing your new teeth, you can expect to be able to enjoy them for quite a while. In fact, more than 95% of dental implant patients report that their teeth still look and feel like new after 10+ years.
Impressively long lifespan – If you take good care of your implants, they can easily last for several decades, if not for the rest of your life. The same can't be said for dentures and bridges, which typically only last five to ten years at most.
Saved money and time – You shouldn't have to worry about getting your implants adjusted, repaired, or replaced as frequently as you would with traditional solutions. As a result, you'll end up saving more money and time in the long run.
Who Dental Implants Can Help
The dental implant procedure has a 95% success rate, and that can greatly be attributed to the careful approach that is taken to the process. At Jones & Knight DDS, we'll perform a thorough examination before any work commences to make sure dental implants are right for you. We'll check to ensure you have sufficient oral health and enough healthy jawbone to contribute to a successful procedure. As long as these primary stipulations are met, the dental implant process is a viable option for any patient 17 years of age or older with missing teeth.
Who Is a Good Candidate for Dental Implants?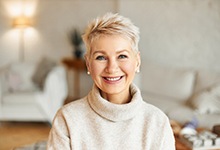 The good news is that almost any healthy adult can enjoy the benefits of dental implants. Usually, you'll need these three things to be considered a candidate:
Does it sound like you're a good candidate for dental implants in Stone Oak? If not, no worries! We offer a variety of preliminary treatments like extractions, gum disease therapy, and bone grafting to prepare our patients for implants. Once these preliminary services are complete, we can build a custom treatment plan based on your specific needs.
Missing 1 Tooth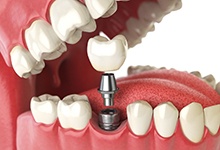 To replace a single tooth, Dr. Jones or Dr. Knight will carefully insert one dental implant. Afterwards, you'll be allowed time to heal sufficiently. Later, we'll invite you back to one of our San Antonio dental offices to have a titanium abutment added, an asset that also plays a critical role in the process by allowing a final restoration to be attached in a secure yet aesthetically pleasing way. This restoration is designed to seamlessly blend in with the rest of your natural teeth for beautiful results.
Missing Multiple Teeth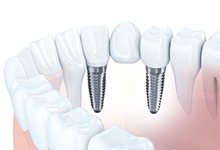 For multiple missing teeth, our dental implant dentist in Stone Oak can either place an implant bridge or partial denture. By relying on a dental implant for stability and security instead of the surrounding teeth, both methods provide a way to have your smile restored in the most functional and aesthetically pleasing way possible. A bridge will literally "bridge" the gap in your smile, while a partial denture can fill in random missing teeth like pieces to a puzzle.
Missing All Teeth
If you're missing a full set of teeth, then we also offer an implant denture. Dr. Jones or Dr. Knight will place four to six implants along each arch in a strategic manner to ensure the most secure yet least invasive placement process possible.
Alternatively, you may be a good candidate for All-on-4. This option is great for patients who do not have a strong enough jawbone for normal implants, usually due to missing teeth for a long period of time. With this method, we can strategically place 4 dental implants to anchor your denture for a full, secure, and strong smile replacement.
Understanding the Cost of Dental Implants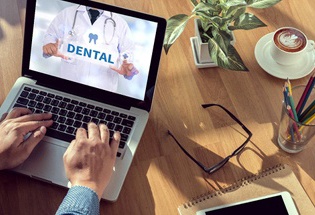 At Jones & Knight, DDS, we believe that are the superior choice to restore missing teeth and reclaim a confident smile. Since every smile is unique, there is no one-size-fits-all cost to dental implants. However, there are different factors that contribute to the overall dental implant cost in San Antonio. Below, we try to breakdown these factors in order to give you a clear picture of why dental implants may be a wise investment for you.
Types of Dental Implants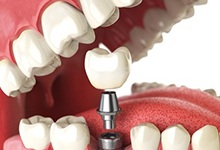 Dental implants are a very versatile tooth replacement option. Indeed, common types of implant treatment include:
Single tooth replacement implant
Implant bridge
Implant denture
Which type of implant treatment you require will impact the final cost of treatment. Generally speaking, treatments they involve a higher number of implants – implant dentures, for example – cost more than a single implant and crown.
What Are the Stages of Dental Implant Treatment?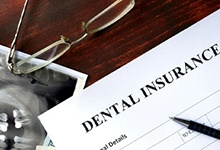 Dental implant treatment is usually a multi-step procedure, starting with the initial consultation and ending with the placement procedure and a beautifully restored smile. Each step along the way contributes to the overall dental implant cost in San Antonio.
A typical dental implant treatment follows these stages:
Stage 1: Initial consultation with Dr. Jones or Dr. Knight to determine if dental implants are the right restorative solution for you.
Stage 2: Your dentist will surgically insert the implant into your jawbone where the tooth is missing.
Stage 3: Healing period of several months, during which the implant fuses with the jawbone.
Stage 4: Once the implant is fully healed, your dentist will place your new crown, bridge or denture.
If you need additional treatment before getting dental implants – such as gum disease therapy or a bone graft – to ensure successful implant treatment, those procedures will likely add to your overall costs.
Are Dental Implants Worth the Investment?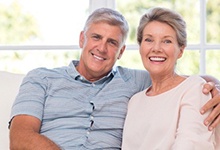 At Josh & Knight, DDS, we believe that dental implants are a very wise long-term investment for almost any incomplete smile. While cheaper alternatives such as dentures and bridges do exist, nothing can match the solid support, natural appearance and restored dental function that implants provide. Moreover, while dental implants may have a higher upfront cost, they also last considerably longer than other dental prosthetics. With proper care, you can expect implants to remain a part of your smile for decades – or perhaps even the rest of your life!
Does My Dental Insurance Cover Dental Implants?
Many dental insurance plans do not provide coverage for dental implants. However, certain costs associated with implant treatment, such as the initial consultation or gum disease therapy, may be at least partially covered by your insurance plan. If you have questions about the particulars of your dental insurance coverage, do not hesitate to ask us for assistance! Our friendly and experienced team at Jones & Knight, DDS, is happy to assist patients navigate their plans and get the most out of their insurance benefits.
Dental Implant FAQs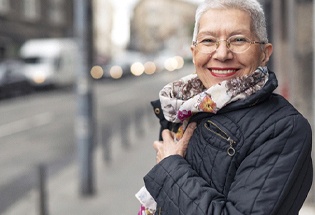 Are you still wondering whether or not dental implants in San Antonio are the right restorative choice for you? With a 95 percent success rate, this procedure can improve a patient's quality of life and offer numerous benefits they aren't able to get with traditional options. We don't want you to miss out, so we've compiled some common questions we get below so you can feel comfortable in starting your implant journey.
Are dental implants safe?
At Jones & Knight, DDS, we utilize the latest techniques and technology in dentistry to place dental implants. Over the years, this procedure has been perfected and researched to be as safe and successful as it is today. In fact, that's why before you get implants, we require a consultation. This way, we can make sure that you're a good candidate for the procedure and that you receive any necessary preparatory treatment beforehand.
How long do dental implants last?
When you properly care for your dental implants by brushing twice each day for at least two minutes, flossing daily, and rinsing with an antibacterial mouthwash, your restorations can last for over three decades. The key is good oral hygiene and routine checkups and cleanings with Dr. Jones or Dr. Knight every six months.
Do I need a bone graft before getting dental implants?
When you visit us for your consultation, we'll let you know if you need any preparatory procedures such as bone grafting, tooth extraction, or gum disease therapy beforehand. If you do need grafting, it's to restore your jawbone density due to deterioration. This will ensure the success of your implants and reduce the risk of failure by creating a strong and durable foundation for your new teeth.
How long does the dental implant process take?
The process of getting dental implants varies drastically from patient to patient depending on a variety of different variables. If you need a bone graft, this will add a couple of months of healing time onto your timeline. After that, we can schedule your implant surgery. Typically, it takes your gums a few months to heal and for your implants to fuse with your jawbone. Next, your abutments will be placed, which are connector pieces that will secure your custom restorations in your mouth. After that, we'll be able to attach your denture, crown, or bridge to complete your improved smile.
So, to answer the question, these procedures usually take course over several months. Patients will agree that the patience and waiting are well worth the results, though! To find out what your unique treatment timeline will look like, schedule a consultation by contacting us today!
If I smoke, can I still get dental implants?
Even if you smoke, you may still be a candidate for dental implants. However, it's important to know that this puts you at a higher risk for implant failure. Why's that? Because smoking can affect your mouth's ability to heal properly after surgery. The best option is to consider quitting smoking or speak to Dr. Jones or Dr. Knight about the impact that this bad oral habit can have on your new smile investment.
Maintaining & Caring For Your Dental Implants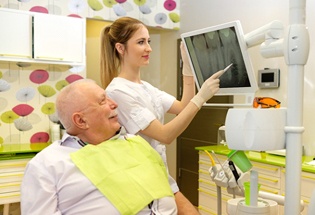 When you want a replacement tooth that truly stands the test of time, dental implants have proven again and again to be the best solution out there. Of course, just like your natural teeth, you'll need to make sure that you're taking care of them day-to-day so they last. Our office is happy to go over the best steps to maintaining and protecting your dental implants. In the meantime, you can learn the most important steps to take today after your implants have been restored with their beautiful restorations.
Make Oral Hygiene a Priority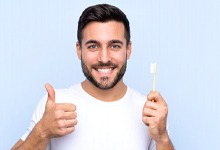 While the restorations attached to your dental implant cannot develop decay like natural teeth, they still need to be brushed and flossed every day to remain free of plaque. Brush them twice a day with a fluoridated toothpaste, making sure to brush for at least two minutes. Floss once a day to remove loose food debris from in between teeth. For extra protection, consider adding an oral rinse to your routine, but avoid products that contain alcohol as they can lead to dry mouth.
Eat a Healthy Diet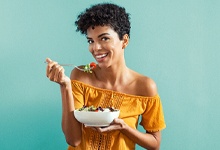 Your oral hygiene at home matters a great deal to keeping your dental implants healthy, but so does your diet. The more starches and sugars you consume throughout the day, the easier it is for your mouth to produce plaque acids that harm the teeth and gums. On top of incorporating many fruits, vegetables, proteins, and dairy products into your diet, be sure to drink water throughout the day. Water helps with saliva production, giving your mouth the attention it needs to wash away harmful oral bacteria.
Break Bad Habits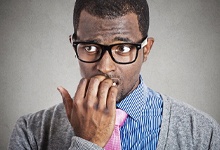 Using your dental implants improperly (much like your teeth) can result in damage and even loss of your replacement teeth. For example, it is not advised that you use your dental implants to perform tasks that are better suited for a tool. This includes but is not limited to opening packages (i.e. boxes, bottles, etc.) or trimming your fingernails. Additionally, if you have a tendency to chew on pens, pencils, ice cubes, or other inedible objects throughout the day, do your best to break these habits as soon as possible.
Protect Your Dental Implants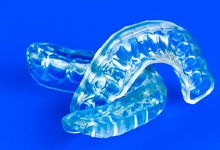 If you participate in a contact sport, the most important thing you can do for your smile is wear a mouthguard. While store-bought solutions can provide brief protection, they aren't the best long-term solution. A custom mouthguard from a dental office is the best way to give your dental implants the protection they need while playing sports. Similarly, wearing a nightguard if you grind your teeth a night is crucial to preventing damage to the implant or the restoration attached to it.
Schedule Regular Dental Checkups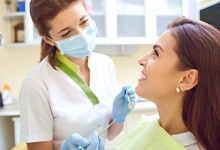 A dental checkup every six months is the best way to ensure your oral health (and dental implants) are well protected and free of any dental concerns. During your checkup, our office will make sure the implant is well secured inside your jawbone and confirm your at-home oral hygiene is sufficient.
Dental Implant Technology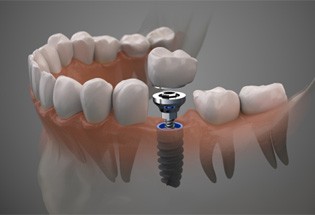 Dr. Jones and Dr. Knight both agree that keeping up with the latest technology is essential for making sure that patients receive the safest, most efficient dental care. Since placing dental implants is an advanced procedure, we need to choose instruments and techniques that give our patients the highest chance of a successful procedure and a new smile that lasts for decades. You can schedule a consultation with our team to learn more about the technology we use to place dental implants; we'll be more than happy to answer your questions.
Guided Dental Implant Surgery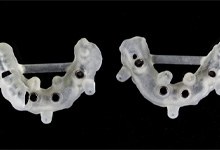 Precision is of the utmost importance when placing dental implants. Each post needs to be placed in just the right spot in the jaw to provide proper support for your implant restoration. Furthermore, during the insertion process, we need to take nerves and other structures beneath your gums into account so that we can avoid complications. To make sure that we're placing implants as accurately as possible, we can perform what is known as guided implant surgery.
This process involves using advanced machinery and imaging technology to guide us during the placement process. A CT scan of your mouth is taken; the images captured during the scan are subsequently combined into a single 3D model that allows us to see your jawbone, teeth, nasal passageways, nerve passageways, sinus cavities, and other structures in full detail. This gives us a much better understanding of your mouth so that we can determine the best way to place your implants. Then, we can create a customized surgical drilling guide that can be placed in your mouth for the procedure. We can position the implants exactly where they need to go thanks to the guide.
When guided using advanced technology, implant surgery becomes much more predictable, and the risk of complications is much lower. Also, guided surgery tends to be faster than traditional surgery, meaning you'll spend less time in the treatment chair.
Antibacterial Coating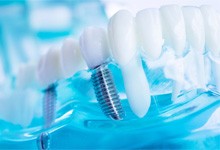 Dental implant failure is rare, but when it does happen, it can usually be traced back to an infection. Bacteria can attack the tissues responsible for keeping the implants connected to the jaw; over time, this can cause implant posts to come loose or even fall out of the mouth altogether. To lower the risk of an infection that could cost you your new teeth, we can place dental implants that have a special antibacterial coating. Simply put, antibacterial agents are applied to the surface of the implant posts before they are inserted into the jaw. Said agents will slowly release antibiotics over time to kill nearby bacteria, including those that you might not be able to reach with a toothbrush. This keeps the tissues around the implant safe from infection to ensure that there aren't any complications during the healing process.