Dental Implants Transform San Antonio Smiles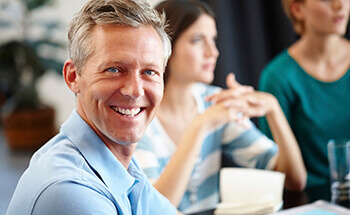 Dental implants have completely transformed the world of tooth replacement allowing patients to regain a complete, strong smile that's virtually indistinguishable from the one they lost. The secret is their structure – instead of restoring just the crown (the white portion on top of the gum line) of the tooth, implants replicate the tooth root as well allowing patients to maintain better oral health in addition to a functional, naturally beautiful appearance.
Here in San Antonio, Dr. Troy Jones and Dr. George Knight are happy to offer patients two great office locations where they pursue the reconstructive care they need in a comfortable and friendly environment. Contact us today if you have any questions our team members can help you with or if you're ready to schedule a consultation!
The Dental Implant Process
The first step of rebuilding lost teeth with dental implants is the surgical implantation into the jawbone. In some cases, Dr. Knight can provide this procedure in-office for added convenience; otherwise, we will recommend you to a trusted specialist in the area. This placement will allow your new "teeth roots" to form strong bonds with the natural tissue and bone over a months-long process. Once you've healed, you'll return to either of our locations in The Medical Center at Oak Hills Place or Village at Stone Creek so we can design and place brand-new restorations on the top of the implants. For individual teeth, custom crowns will be the replacement of choice. In cases of more extensive tooth loss, we may recommend implant-retained prosthetics as a more cost-effective option.
Implant-Retained Prosthetics
Implant-retained prosthetics are similar to any traditional bridge or denture in appearance, but they have one important alteration – they're designed to attach over placed implants within the jawbone restoring multiple teeth at once in a secure and functional fashion. We may recommend a fixed or removable appliance, depending on your needs.
Are dental implants right for me?
Dental implants work for nearly any patient, but to have the highest chances of success, these characteristics are very important:
Generally good oral health
A sufficient amount of jawbone density to support placed implants
A commitment to following professional and personal oral healthcare standards for life
If you don't fit into one or more of these categories, Dr. Jones and Dr. Knight might recommend additional dental services before your implant procedure is set to begin. Our goal is to help you succeed in regaining a smile that exceeds expectations!
Countless Great Benefits
Restored dental implants can be treated just like natural teeth. Patients don't need to change their diets or oral hygiene routines at home to accommodate them.
Bone loss over time is a serious concern when natural tooth roots are lost. Dental implants address this concern directly helping to stimulate the jaw so deterioration is prevented.
Dental implants are exceptionally long-lasting! If patients care for them diligently and attend routine professional appointments with our team, they last for 30 years, 40 years, or even for life.