Dental Bridges – San Antonio, TX
A Traditional Way to Replace Missing Teeth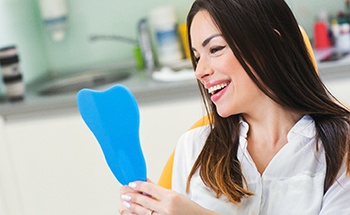 There's more than one way to replace missing teeth. In many cases, Dr. Jones and Dr. Knight may suggest a time-tested solution for filling in the gaps in your grin: a personalized dental bridge. With a well-made dental bridge, you can once again enjoy the benefits of a complete set of teeth. Don't wait to do something about the empty space in your smile; call us today to ask about having a dental bridge made.
Why Choose Jones & Knight, DDS for Dental Bridges?
Dazzling, Long-Lasting Tooth Replacements
Knowledgeable, Experienced Dentists
Two Convenient Locations
What is a Dental Bridge?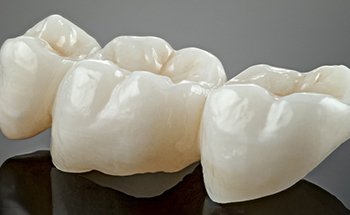 When there's a single gap in your smile, a dental bridge can be used to fill it. Unlike a denture, a dental bridge is meant to stay anchored in your mouth at all times. It is traditionally attached to two of your natural teeth, but in some situations, it can instead be supported by a pair of dental implants.
To create a bridge, one or more pontics (artificial teeth) are suspended between two crowns. The crowns are what will keep the prosthesis attached to your mouth. Both the crowns and the pontics can be customized to match the appearance of your natural teeth.
Types of Dental Bridges
When you decide to get a dental bridge, you are likely to wonder whether you should get a traditional bridge or an implant bridge. Both treatments have advantages and disadvantages to consider, so a decision should only be made once you and your dentist have thoroughly discussed your situation. Here are the basics of what you need to know about both kinds of bridges.
Traditional Dental Bridge
A traditional bridge offers a relatively easy way to get rid of the empty space left by a missing tooth or several consecutive teeth. You can only receive a traditional dental bridge if the teeth next to the gap are capable of supporting the crowns.
Implant Bridge
An implant bridge can be placed if at least three teeth in a row are missing. Dental implants come with many advantages, such as providing additional chewing power and offering a longer lifespan than other tooth replacement options. If you choose to have dental implants placed, our team will be able to perform the procedure in-office.
The Benefits of Getting a Dental Bridge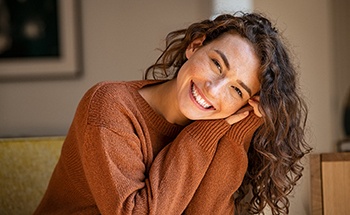 While there are obvious aesthetic advantages to filling in any gaps in your smile, dental bridges also offer a number of other benefits. Having a dental bridge placed will help ensure that your remaining teeth stay properly aligned. Furthermore, a dental bridge is very easy to clean, which can go a long way toward helping you maintain a healthy smile.
With the right care, you can look forward to getting many years of use out of your dental bridge. A traditional dental bridge can last for 10 or even 15 years before they need to be replaced. Implant bridges have the potential to last even longer.