Dental Crowns – San Antonio, TX
Cap Off Your Broken Teeth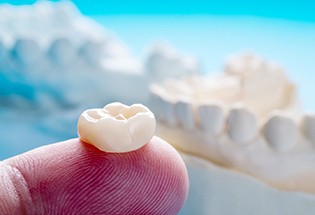 Dental crowns are one of the most recognizable dental treatments there is. Their popularity comes from not only their efficacy as a treatment but also their incredible versatility. This one procedure is used to repair damage, cap off root canals, and even just make teeth a little more beautiful.
No matter what you're using it for, our dental crowns can give you a beautiful, healthy smile. If you want to see what we have to offer, give us a call today for a consultation.
Why Choose Jones & Night DDS For Dental Crowns?
Beautiful, Customized Restorations
Dental Crowns Made From High-Quality Ceramic
Accepts a Variety of Dental Plans
What Is a Dental Crown?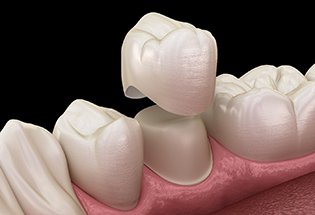 Dental crowns are small "containers" designed to look like healthy, beautiful teeth. By placing them on top of your natural teeth you can both patch up any damage they've experienced and give them a little bit of a face lift.
Dental crowns are a great choice for someone who has had one or two teeth that have decayed, fractured, or experienced another kind of damage too substantial for a filling to address. They can also be used like veneers on teeth that may endure a little too much bite force for that procedure to be practical.
The Process of Getting a Dental Crown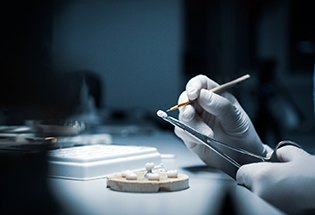 The first part of the dental crown process will entail designing the dental crown. This is done by taking a series of images of your tooth and carefully deciding on the color, shape, and size that will fit in best with the rest of your smile. We'll then treat the tooth for any kind of disease or decay and cover it with a temporary crown while your final restoration is being crafted.
We send the designs and notes we took to the lab, and the technicians there will carefully craft your restoration to these specifications. Once it's finished, we'll call you back to the office and put them in place.
Benefits of Getting a Dental Crown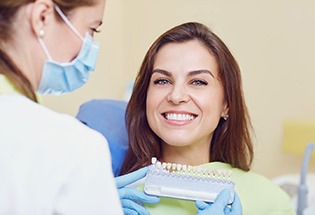 The issue with damage to the tooth is that the enamel isn't able to repair itself. That means that any kind of damage the tooth sustains is liable to get worse if you don't do anything about it. Decay is likely to progress if it isn't treated, and small fractures can widen.
By capping off a tooth with a dental crown, you can not only improve your comfort and overall bite force but also stop any conditions you have from worsening. Besides, having a decayed tooth isn't nearly as appealing as one that's whole and healthy, meaning that dental crowns can also beautify your smile.
With just daily hygiene and routine checkups you can keep enjoying the benefits of dental crowns for a long time to come, over 15 years in many cases. So there's no reason not to get the care you need—if you think a dental crown could help you, give us a call today!