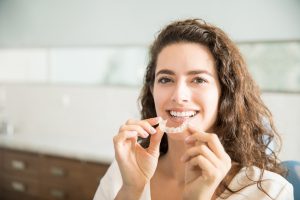 If you're ready to correct your bite and alignment issues, Invisalign is a nearly invisible option. Many teens and adults choose clear aligners because they are less noticeable than traditional braces. Did you know there are other benefits of Invisalign other than just a discreet appearance? Here are 6 advantages you will enjoy when choosing the orthodontic system to achieve a straight smile.
1. Added Comfort
Your aligners are custom-made from smooth, transparent plastic. You won't need to worry about brackets and wires irritating the inside of your lips or cheeks. Not to mention, you won't have to deal with any tugging or pulling on your teeth. The aligners apply consistent pressure to gradually move them into position, so you won't need to worry about unnecessary discomfort.
2. Easy Maintenance and Care
No one has the time for a lengthy oral hygiene routine. You won't have to deal with brushing and flossing around wires and brackets when choosing Invisalign. Simply brush and floss like you normally do while also taking a few extra minutes to clean your aligners. Use a soft-bristled toothbrush and clear antibacterial soap to keep your aligners clean and looking their best.
3. No Dietary Restrictions
There are many foods you can't eat while wearing metal braces. You won't have any dietary restrictions with Invisalign. The aligners are removable, so you can still enjoy your favorite foods; however, be sure to brush your teeth and rinse your aligners before putting them back into your mouth. Never have anything except water while wearing them to prevent damage and stains.
4. Less Time in the Dental Chair
Your schedule is busy, but you won't have to take time off work or delay your daily responsibilities with Invisalign. Since wires aren't used to move your teeth, you won't need appointments for adjustments, so you'll spend less time in the dental chair. You'll have to see your dentist every few weeks to monitor the movement of your teeth.
5. Fast Results
Traditional braces are typically worn for about 24 months. Invisalign offers quicker results. In fact, most people are finished with their series of aligners after about 12 months, but every case is unique. Generally, if you must make significant movements, you'll require more aligners than someone who only needs minor adjustments.
6. Affordable
Every dental insurance plan is unique, but many policies offer coverage for Invisalign. You can use your benefits to help offset the amount you need to pay out-of-pocket. For any remaining balance, your dentist accepts several payment methods, like third-party financing.
Invest in a Straight Smile
If you need a sophisticated option to correct your bite and alignment problems, it's time to advantage from Invisalign.
About Dr. Troy Jones
Dr. Jones earned his dental degree at The University of Texas Health Science Center at San Antonio. He regularly continues his training to provide specialty services, like Invisalign. If you're ready to improve your smile, contact our office today to see if you're a candidate for clear aligners.