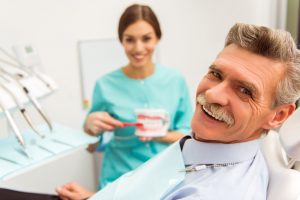 According to the American Association of Oral and Maxillofacial Surgeons, nearly 70% of American adults aged 35 to 44 are missing one or more teeth. No matter your age, missing teeth can be a major source of embarrassment and keep you from talking or laughing around friends, family and coworkers. Thankfully, modern dentistry offers a range of restorative treatments that can replace missing teeth and boost self-confidence. Here is a breakdown of two of the most popular tooth replacement solutions: dentures and dental implants in San Antonio.
Dentures and Implants: How Each Work
Dentures and dental implants replace missing teeth and restore dental function in very different ways. Here is how each tooth replacement solution works:
Dentures
Dentures in San Antonio are a set of artificial teeth and gums that typically consist of a pink resin base and artificial teeth made from porcelain. Full dentures can replace an entire missing arch of upper or lower teeth and stay in place through natural suction or dental adhesive. Full dentures are also often removable, making them very easy to clean. Partial dentures are crafted from the same material and can replace multiple missing teeth. Partial dentures usually use small metal clasps to stay in place in the mouth.
Dental Implants
Dental implants are small titanium posts that are surgically inserted into the jawbone beneath the gums where a tooth is missing. The implant fuses with the surrounding bone through a natural process called "osseointegration". Once the implant is healed, a crown is placed on top of it, restoring a person's dental appearance and function. Multiple dental implants can be used to support implant-retained dentures as well.
Similarities and Differences
Here is a brief breakdown of how dentures and dental implants in San Antonio compare and contrast:
Longevity – With proper care, dentures typically need to be replaced every 5 to 10 years. Dental implants, meanwhile, can last for decades – possibly even the rest of your life!
Appearance – Both dentures and dental implants look very natural when replacing missing teeth. However, because dental implants replace both the visible tooth and the tooth root structure, dental implants also feel more like natural teeth.
Chewing Power – While dentures can replace around 15% of natural chewing power, dental implants provide up to 90%!
Cost – Dental implants typically cost more upfront than dentures. However, because implants have such a long lifespan, they can actually be cheaper over the long term.
Which Solution Is Right for You?
While both dental implants and dentures in San Antonio are effective ways to replace missing teeth, each solution has different pros and cons. Many dentists recommend dental implants because they offer superior support, look and feel natural and last for many years. Ultimately, the best restorative treatment for you will depend on a combination of your unique smile needs, goals and budget.
Scheduling an initial consultation with your dentist is a good first step to get more information and an expert opinion on how to best rejuvenate your smile.
About Jones & Knight, DDS
The dynamic duo of Dr. Troy Jones and Dr. George Knight help restore the smiles of men and women across San Antonio. The two experienced and talented dental professionals provide a full range of restorative treatments at their two convenient locations, including crowns, bridges, dentures and dental implants. For more information on modern tooth replacement solutions, visit the Jones & Knights, DDS website or call 210-494-4407.