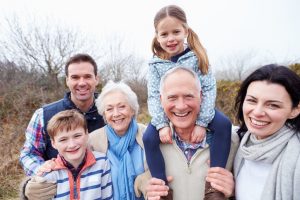 People are busier than ever these days, and by people, we mean you. Once things really get hectic, it's common for people to stop taking care of themselves, especially when it comes to their teeth. It's easy to keep pushing back that dentist's appointment. However, seeing as how you're the one that keeps your entire family organized, that means all your loved ones aren't getting their teeth taken care of as well. It can't stay like this, but you simply don't have time to drive all over town taking people to different doctors. Fortunately, Jones & Knight DDS now have two convenient locations in San Antonio, making it easier than ever for people like you and their families to get their essential dental care. Today, we're going to talk about what you can get when you bring your family to either location, and how having them all treated at the same practice can help you save time.
Meet Dr. Jones and Dr. Knight
Of course, when talking about a dental practice, it all starts with the doctors. When you visit our Medical Center or Stone Oak location, you'll be taken care of by two professionals at the top of their field.
Dr. Troy Jones is a true homegrown San Antonio dentist, and has nearly 30 years of experience. He received his DDS degree from The University of Texas Health Science Center at San Antonio, and started his practice in 1994. His goal every day is to provide top-quality dental care in an inviting, home-like environment that helps his patients relax as soon as they walk in the door.
Dr. George Knight also attended The University of Texas Health Science Center at San Antonio, and went on to teach there, publishing many scholarly papers. He continues his education to this day so he can better inform and serve his patients. He knows the better informed they are, the more at ease they will be.
2 Locations, 1 Goal
The reason we have two locations is to help people just like you: people who have families, but struggle to find time to make appointments. We hoped either office would give people an option that is closer to them, making it simpler for them to schedule visits. We also offer very flexible hours at either location, so whether you need to bring people in before or after school/work, we'll be there for you.
Our offices also give people the opportunity to take care of their whole family in just one appointment. Rather than spacing out visits over the course of a few weeks, we can work with you to have your entire family come in at the same time to get their standard dental check-ups and cleanings. This will save you multiple trips in the car, and you'll be certain that everyone gets to see their family dentist in San Antonio.
Of course, our care goes way beyond the basics. We're also the home of your cosmetic dentist in San Antonio, and can help your family's smiles look great and be healthy at the same time. Between our accommodating hours and 2 locations, we know we can make our high-quality dental care fit into your busy schedule.
Come See Us Today!
Whether your family is big or small, we have a place for them here. We work hard every day to take care of San Antonio families just like you, and will always work with you to make it easier for everyone to get their essential dental care.
If you have any questions about all the services we can offer, or want to schedule an appointment for yourself or someone in your family, please give us a call today.