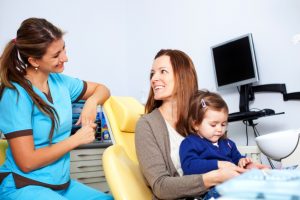 When it comes to choosing a dentist to care for your family, there are various factors that need to be taken into consideration to ensure you have made the right choice. The dentist you choose will be by your family's side for many years to come. As a result, you need to ensure they are able to meet the specific needs of your family both today and in the future. In addition, you need the care you receive to be as convenient as possible to ensure dentist appointments can be maintained. At Jones & Knight, we make dental care for families comprehensive and convenient as a family dentist in an Antonio, TX.

Comprehensive Care
Each member of your family has unique oral health needs, which will change over time. You need a team of dentists by your side who are able to deliver the exact care needed through all stages of life. Our team of dentists are supported by extensive training and qualifications to provide complete oral care to all patients—no matter their age. Dr. Troy Jones has been a dentist for 29 years as a graduate of The University of Texas Health Center. His extensive training and recognition allows him to maintain memberships with many organizations, including the American Dental Association and Texas Dental Association.
Working alongside Dr. Jones is Dr. George Knight, who earned his doctor of dental surgery from the University of Texas Health Science Center. In addition, he was also an educator at the UTHSC Dental School and has published various manuscripts and research findings. Together, Dr. Troy and Dr. Knight will deliver the high quality care your family needs.
Convenient Dental Care
When raising a family, life is very busy. You need to find a dentist who makes life a bit easier by offering added convenience to your life. As a family dentist, we go the extra mile to ensure dental care is as convenient as possible. We offer two locations in San Antonio to ensure there is a location near you. In addition, we offer early morning and late night appointments because we know your schedule is busy. With flexible office hours, we are able to schedule your entire family in one visit to save you time. We will care for your entire family from one location with all of the services your family needs under one roof.
Complete Dental Care for Your Family
At Jones & Knight, we offer an array of dental services to ensure your family receives the highest level of care. In addition to preventive appointments for cleanings and checkups, we offer restorative and cosmetic dentistry to ensure your smiles are healthy and beautiful. We even offer tooth replacement options to allow those with missing teeth to regain a complete smile. No matter if you need fluoride treatments for your children, braces for your teens, or tooth replacement for the older members in your family, our dental office has all of the services you need.
If you are ready to benefit from one comprehensive and convenient team of dentists, contact Jones & Knight to schedule an appointment.