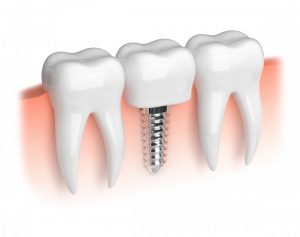 Are you missing any teeth? Dental implants have quickly become one of the most popular replacement methods because of their natural appearance and lasting results. Once an implant is placed, you have the opportunity to keep it for the rest of your life with proper maintenance. Keep reading to learn what dental implants exactly are, and how you can take care of them to get the most out of your replacement.
What Are Dental Implants?
Before getting too far into how to ensure the longevity and success of dental implants, let's talk about what they are. A dental implant is an artificial tooth root, usually made of titanium, that is placed in your jaw to support a restoration (false tooth). Dental implants provide a sturdy base for a single restoration, dental bridges, and can even be used to support dentures for a more secure replacement.
Patients gravitate towards dental implants for many reasons, but they have become so popular because of how realistic they look and feel. Once an implant is placed and a restoration is mounted, no one will be able to tell the difference between your restoration and natural smile. The implant allows the false tooth to emerge from your gums naturally, and your dentist in San Antonio will be able to match the color of your restoration exactly to the rest of your pearly whites.
How Can I Make My Implants Last?
The beauty of dental implants is that for the most part, you can treat them just like your natural teeth. That being said, check out some tips on how to make your dental implants last:
Avoid extremely hot liquids: The metal from your implant retains heat more than your average oral tissue. So, in extreme cases, your implant can heat up and cause damage to the surrounding tissue.
Avoid smoking: Smoking causes a lot of oral and overall health problems, but specific to implants, smoking can lead to bone and tissue deterioration. This could result in a weakened bond of your implant to your jawbone.
Visit the dentist routinely: In addition to proper dental cleaning, your dentist can carefully examine your implants, the surrounding tissue, and your bone structure to make sure everything is healthy.
Brush and floss: Brushing and flossing is just as important, if not more when you have implants. Brush your teeth and be sure to floss around your implants to clean out bacteria and plaque from the implant and your gumline.
All in all, dental implants should be cared for on a regular basis just like natural teeth, but take the extra precautions above to ensure the success and longevity of your implants. They can last a lifetime with proper oral healthcare!
About the Practice
Dr. Troy Jones and Dr. George Knight both bring years of experience to their practice. Dr. Jones is a member of the International Team for Implantology, so he stays up-to-date on all the latest techniques and information about implants. Dr. Jones and Dr. Knight currently run their own practice, and can be contacted through their website or by phone at (210) 349-4408 for any questions.