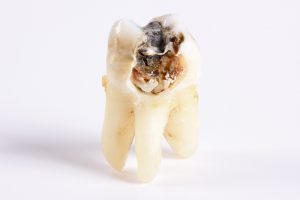 Imagine walking down the busy streets of downtown and a stranger approaches you with a microphone and camera man backing them. They ask you, "What are the best ways to avoid tooth decay?" Would you know how really answer that question without mumbling something about brushing regularly and occasionally flossing? Your dentist in San Antonio wants you to be equipped with the knowledge of how to properly care for teeth and avoid cavities. Tooth decay is easily preventable if you follow these steps from Jones & Knight, DDS.
1.   It's important to understand the causes of tooth decay.
It's hard to avoid tooth decay if you don't know that your lifestyle could be contributing towards it. Your habits can have an influence on the health of your teeth so it's important to know how your habits can affect your teeth. Then you can lead a healthier lifestyle. The common causes for tooth decay are:
Poor dental hygiene
Improper nutrition
Sweet and sugary food items
Acidic food and drinks
Genetics
Grinding teeth
Dry mouth issues
Age
2.   If You Have Tooth Decay, you can fix it with proper dental care.
Tooth decay is primarily caused because dental bacteria and food have lingered on and around your teeth for too long. You can eliminate bad bacteria and food particles if you brush your teeth with fluoride toothpaste twice a day, floss once a day, and get your teeth professionally cleaned by your family dentist in San Antonio at least twice a year. Fluoride in your teeth will help strengthen the teeth enamel and make them more resilient to decaying factors.
3.   Limit Sugar and Starch
There's a reason why your dentist always warns you to stay away from sugary, processed foods. Sugar reacts with the bacteria and provides the tools to create a toxic acid that attacks the enamel of your teeth. Starch will stick to your teeth and turn to sugar as well. The best thing to do for your oral health is to eliminate these items from your diet altogether—or at least have them in moderation. This will limit the contact between the sugar your tooth enamel and prevent damage.
4.   You shouldn't snack at night.
Your nutritionist is right. It's bad for your body to snack at night—even for your teeth! Eating directly before you go to sleep can be harmful to your health as well as your teeth. You need to make sure that saliva can break down the food in your mouth. It's better for your oral health to leave a gap of a couple of hours between food consumption and sleep.
5.   Visit Jones & Knight, DDS.
You should visit the dentist twice a year to maintain good dental health. Our dental professionals will examine your teeth and gums, do a thorough cleaning to remove plaque and tartar, spot small and early signs of tooth decay, and make sure your teeth and gums are in good condition.
When's the last time you visited your dentist for preventative care? If just about six months have passed, it may be time to schedule your next appointment. Give our office a call!