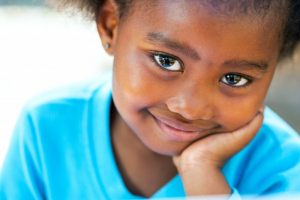 As a parent you strive to provide the absolute best for your children and protect them at all costs. One of the concerns you have for them is their dental care. You want to make sure that they'll get the foundation they need to have a healthy mouth, teeth and gums for years to come. So given that February is National Children's Dental Health Month, your dentist in San Antonio says that one of the best ways to commemorate it is to learn how you can turn your desires into actions.
Why is Dental Care So Important for Children?
It may seem that dental care isn't as important for young children because they haven't gotten their permanent teeth yet. The reality, though, is that damage can still be done to the roots and gums if they have poor oral hygiene.  This is because the moment they begin eating solid food, bacteria start to grow in their mouths.
Thus, your dentist suggests that you start teaching your children how to brush their teeth by the age of two and also schedule them for their first preventive care visit. These appointments will serve several purposes:
Allow Them to Get Acquainted – Many adults who fear going to the dentist do so because that wasn't a part of their normal routine as children. Taking your kids early in life will allow them to grow accustomed to visiting the dentist and practicing excellent oral hygiene.
A Firm Foundation – The early visits also establish a firm foundation by allowing your children's dentist of San Antonio to monitor the growth of your children's teeth and their oral health. This ensures that you're always on the proactive side and not constantly reacting to problems.
Education – While at their semi-annual visits, it's a great time for your children to learn more about their mouth, teeth and gums and how to care for them properly, so that by the time they become adults, they will have an advanced understanding and respect for their dental care.
How to Choose the Right Dentist
It's equally important that you find the right professional to care for your children. He or she should possess certain intangible traits and his office should offer the right type of environment that fits the whole family. Here's what you should look for:
Compassion and Patience – Your dentist should have experience working with children and understand their nature.
A Natural Teacher – He or she should be a natural teacher, eager to share knowledge with children that will inspire them to cherish excellent oral care for the rest of their lives.
Comfortable Environment – It's important for the environment to be one where children feel safe and comfortable. Also, the equipment should be designed to accommodate kids.
Proper Training – Your new dentist should also have the training needed to understand the specific needs of children and how to provide adequate care.
As you move through February, you are invited to reach out to your local dentist to schedule an initial visit for your children. This will be a superb way to celebrate National Children's Dental Health Month.
About the Author
Dr. Troy Jones received his undergraduate degree from the University of Texas and then went on to earn his dental degree from the University of Texas Health Science Center at San Antonio. A member of the American Dental Association, Dr. Jones practices at Jones & Knight DDS and can be reached for more information through his website.