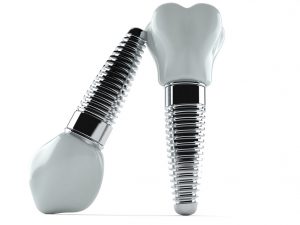 San Antonio gives you a lot of reasons to smile – from the sunny weather to the great Mexican food to the Riverwalk – but when you do, your confidence plummets because of the blank spot in your grin. You're missing a tooth and want a solution that will last a long time, and dentures or bridges just don't interest you. What are you options? With a dental implant in San Antonio from Jones & Knight DDS, you can restore your smile to its former glory and be completely satisfied with this durable replacement.
What Are Dental Implants?
As the leading experts in restorative dentistry in San Antonio, Dr. Troy Jones and Dr. George Knight explain that dental implants consist of three pieces:
Implant – The implant itself is a titanium post that will be surgically placed in your jaw. This will become the secure foundation for the rest of your replacement tooth. After undergoing oral surgery as the first step in the process, you'll need about 3-6 months for the post to fuse with your jaw and become stronger in a process called osseointegration.
Abutment – This is the connecting piece between the implant and- the tooth-shaped "cap." Once the implant is strong enough, the abutment will then be affixed to the post.
Crown – This is the part of the replacement that looks like the tooth. The long-lasting, natural-looking porcelain dental crown will be secured to the abutment after that part is added, giving you your winning smile back.
How Long Do Dental Implants Last?
As opposed to dental bridges, partials, and full dentures that last a maximum of fifteen years, at best, dental implants can last indefinitely with proper care. Many patients don't need to replace any portion of the implant until after decades of use. These are as close to permanent as a patient can get, and are remarkably durable, and life-like. And, although implants may be a bit costlier up-front, you'll actually save money over the course of a lifetime with fewer replacements.
Why Are Implants Superior To Other Artificial Teeth?
Implants are the gold standard for artificial teeth for several reasons, including:
Stay-Put Smile – Who wants to put their smile in a cup at night? You won't have to worry about the embarrassment of removable dentures in your daily life, even when you kiss your sweetheart. And, you can say goodbye to messy dental adhesives, too.
Jaw Strength – Unlike bridges and dentures that cause your jawbone to recede from the pressure that occurs every time you chew, dental implants actually increase bone density and keep your jaw strong.
Better Speech & Chewing – Your teeth not only make your smile look great, they're a vital part of speaking and digesting food. Since the implants will stay in place and won't wiggle, you'll be able to eat all your favorite foods, and you'll never have to worry about mumbling or being misunderstood when you talk.
Now that you know that dental implants are the durable, long-lasting solution you're looking for, schedule your appointment with Jones & Knight DDS to get your radiant smile back!