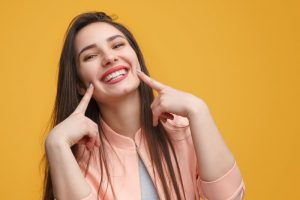 When you look at your smile in the mirror, what do you see? Many people are unhappy with the way their grin looks, but few know what the next steps are to transform their smile. Whether you have stains, discoloration, chips, cracks, misshapen or misaligned teeth, and more, there are ways that your dentist in San Antonio can deliver you the smile of your dreams. Read on to learn some common complaints that people have with their smiles and the best ways to achieve a beautiful set of pearly whites.
Is Your Smile Stained or Discolored?
Whether it's routine coffee and wine drinking, smoking, or just plain-old aging, your teeth can lose their beautiful white color over time. Thankfully, your dentist offers convenient at-home teeth whitening. By simply applying professional-grade whitening gel to a custom-made oral tray that is worn over night, you can watch your teeth begin to dazzle in the comfort of your own home.
Are Your Teeth Crooked?
Have you been wanting to straighten your teeth for a more uniform smile but don't want to deal with metal braces? Whether it's for aesthetic purposes or comfort, braces can be a problem in your work and social lives. That's why your dentist offers Invisalign clear aligners. These removeable, almost invisible aligning trays straighten your teeth over time using a series of plastic trays that are discreet and comfortable. Plus, they're removeable, so you can still eat all of your favorite foods.
Do You Have Chips Gaps or Cracks?
If you have chips, gaps, cracks, discoloration, or multiple cosmetic issues with your teeth, porcelain veneers could be the perfect solution for you. These thin shells of dental porcelain are bonded to the front surfaces of your teeth to conceal almost any of your smile's flaws. You can pick the size, color, and shape of your veneers to achieve the smile of your dreams. The best part is that dental porcelain is stain-resistant, so it'll be much harder to cause discoloration in the years to come.
Do You Have Decay or Misshapen Teeth?
If you have tooth decay or are unhappy with the shapes of some of your teeth, you could benefit from all-ceramic restorations. Blurring the lines between cosmetic and restorative dentistry, your dentist can provide all-ceramic crowns, inlays, onlays, and bridges to strengthen your teeth while maintaining a natural appearance.
Does it sound like you could benefit from one or more of the treatments above? Talk to your dentist to get started on a brand-new smile.
About the Practice
Dr. Troy Jones and Dr. George Knight are a team of dentists who bring decades of experience and training to each smile they treat. They take pride in boosting their patients' confidence by transforming their smiles. They currently practice at Jones & Knight DDS, and they can be contacted through their website or by phone at their Medical Center or Stone Oak locations.