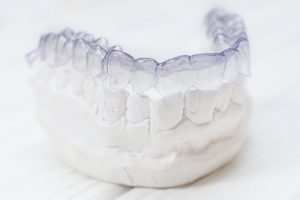 If you're embarrassed by crooked or gapped teeth, hiding your smile behind a mask can make you feel more confident in social settings. Unfortunately, you can't wear one forever. Thankfully, you can invest in a straight smile to allow your confidence to continue after your mask comes off. With the start of the new year, why not invest in your self-esteem and your dental health with Invisalign in San Antonio? You'll achieve the beautiful smile you want using a discreet solution.
What are the Benefits of a Straight Smile?
Research shows the appearance of your teeth directly influences how you feel about yourself and how others view you. Alignment issues are a leading concern among adults. In fact, many people will avoid taking pictures, social settings, and career advancements because they are displeased with the way their teeth look. Aesthetics aren't the only concern. Alignment and bite problems can also affect your dental health, increasing your risk of tooth decay, gum disease, and jaw pain.
Invisalign is a sophisticated solution to move your teeth into their ideal positions to fix a variety of bite and alignment concerns. You won't need to worry about any brackets or wires drawing added attention to your mouth. Invisalign in Stone Oak uses a series of clear aligners to straighten your teeth.
How Does Invisalign Work?
Invisalign differs from traditional orthodontics because it doesn't use any brackets or wires. Instead, your dentist creates a series of clear aligners that are worn over your teeth for at least 22 hours per day. Each aligner applies consistent pressure to gradually move them into position. Since there aren't any brackets or wires, you won't need to worry about frequent appointments for adjustments, which is perfect for busy adults who don't have a lot of flexibility in their schedules.
The aligners are removable, which also adds convenience to your treatment plan. They aren't affixed to your teeth, so your oral hygiene routine is virtually unchanged, except for cleaning your aligners. You also won't need to deal with any dietary restrictions; however, you should only have water while wearing them.
On average, most patients are finished with their series of aligners in 12 to 18 months, but there are several factors that influence how long you'll need to wear them, like the complexity of your case. It's best to follow your plan correctly to ensure there aren't any delays added to your treatment.
Invest in a Beautiful Smile
There isn't any better time than now to achieve the healthy, beautiful smile you deserve. Take your first step toward improved self-esteem by scheduling your consultation for Invisalign. You'll head into 2021 feeling confident about the road ahead.
About Dr. Troy Jones
Dr. Jones earned his dental degree at The University of Texas Health Science Center of San Antonio. He has a passion for providing superior services, which is why he is a member of various dental organizations, including the American Dental Association. If you're interested in Invisalign, contact our office today to schedule your consultation.