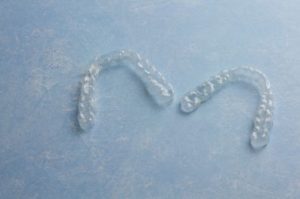 If you've recently gotten Invisalign in San Antonio – congratulations! You're well on your way to having a healthy, beautiful smile that you can be proud of. As you know, Invisalign offers multiple advantages over braces, including the fact that you can remove your trays before meals and your daily hygiene routine. That makes it so much easier to keep your teeth and gums clean – and you don't have to give up nearly as many foods as you would in braces. But, having said that, there are still some dos' and don'ts of being in Invisalign treatment that you should know to get the most out of your treatment. Learn more below!
The "Do" List
Here are some easy things to do during treatment to keep your trays in great shape and make sure you get the results you're after:
Care for your aligner trays – To keep your trays clean and fresh, brush them with clear liquid soap or soak them in a specially designed solution from your dentist. Also, be sure to store your trays in their protective case during meals. You'd be surprised how many patients have wrapped them in a napkin, only to accidentally throw them away later.
Wear your trays for the recommended 20-22 hours per day – By complying with this rule, you'll increase the chances that you'll finish your treatment in the estimated time. That way you can enjoy your new smile as soon as possible!
Only drink water while wearing your trays – Other beverages can stain your trays or cause them to develop an unpleasant odor.
Maintain great hygiene habits – Take advantage of the ability to remove your trays before brushing and flossing. It makes it so much easier to prevent the cavities and gum problems people who wear braces so often get.
Continue getting checkups – It's still important to see a dentist in San Antonio for checkups and cleanings to make sure your teeth and gums stay healthy.
The "Don't" List
One of the best things about Invisalign is that the "Don't" list is so short!
Don't use toothpaste or denture cleaner to clean your trays, as these products can damage them.
Don't put your trays in too forcefully, which can warp or break them.
You can eat almost everything that you did before treatment, but avoid chewing on ice or eating particularly hard foods like nuts or hard candies. These foods can break off the small temporary attachments (or "bumps") on your teeth that keep your trays in place.
Invisalign is an excellent alternative to braces that gives you fantastic results without wearing brackets or wires. With these guidelines, you'll be sure to have a great experience – from start to finish!
About the Author
Dr. Troy Jones has 30 years of experience as a dentist in San Antonio. He loves seeing the confidence his patients have when they're done with Invisalign and always helps them understand how to care for their smile during treatment. If you have any additional questions about how to maintain your oral health in Invisalign, he can be contacted via his website or at (210) 349-4408.