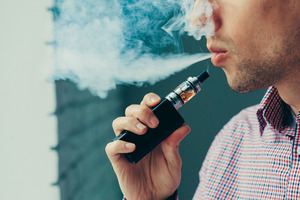 It's common knowledge that smoking is bad for your health, but what about vaping? Many smokers have turned to e-cigarettes thinking that they are a safer option. Sadly, there's an increasing amount of evidence that vaping can also lead to health issues – and it could even cause serious problems for your mouth. Your preventive dentist is here with important information about the impact e-cigarettes can have on your smile.
How Does Vaping Work?
The e-cigarettes used for vaping utilize a special liquid solution that turns into a vapor when heated up. This solution typically contains a number of potentially harmful ingredients, such as nicotine or certain chemicals known to cause cancer. Inhaling the vapor produced by an e-cigarette can ultimately lead to problems with your heart and lungs.
What are the Oral Health Consequences of Vaping?
Oral health experts strongly advise against vaping due to the numerous issues it can lead to:
Certain humectants found in e-cigarettes might end up drying out your mouth. This may not sound like a major issue at first, but dry mouth can significantly increase your risk of tooth decay, and it may even lead to a yeast infection.
As noted above, some e-cigarettes contain nicotine, which can increase your chances of developing gum disease by restricting the flow of blood to your gum tissues.
Sometimes the nicotine in certain e-cigarettes could end up staining your teeth, leaving you with a smile that you're less than fully confident in.
Research has found that vaping could increase the presence of harmful bacteria in your mouth, which can make it more difficult to keep oral health issues at bay.
What Can You Do to Protect Your Smile?
The best thing you can do to avoid the worst consequences of vaping is to not start the habit in the first place. Unfortunately, there are many individuals who have already become addicted to e-cigarettes – particularly among young people.
If you're already vaping, you should make sure that you're seeing your dentist on a regular basis. They can take steps to identify and treat oral health issues long before they reach their more advanced stages. Most people only need to visit the dentist once every 6 months, but those who use e-cigarettes may need more frequent appointments.
Are you worried that vaping may have already led to serious consequences for your smile? If so, you shouldn't waste any time reaching out to your dentist to see what kind of treatments they recommend.
About the Author
Dr. Troy Jones is a San Antonio native who entered the dental field in 1987. He loves having the chance to help his patients enjoy excellent dental care at a practice dedicated to helping them stay as comfortable as possible. He is able to offer a variety of dental services, including treatment for gum disease. If you're concerned about the oral health consequences of vaping, you can schedule a consultation with Dr. Jones at Jones & Knight DDS by visiting his website or calling (210) 349-4408.