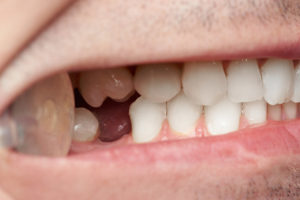 If you are missing a tooth, you should know that you're not alone. According to the American College of Prosthodontists, 120 million Americans are missing at least one tooth! If you have a gap in the front of your smile, you'll obviously want to replace the tooth as soon as possible. But do you really need to replace a tooth that no one will see? While you may not have any aesthetic concerns, there are actually oral health risks associated with not replacing a missing back tooth. Here are five compelling reasons to replace a missing molar with a dental implant.
#1: Difficulty Chewing
Each tooth plays an important role in breaking down the food you eat. Molars are used to chew, grind, and crush foods, especially tough foods like steak. They also encourage an even bite. When a back tooth goes missing, chewing pressure can shift and cause your remaining teeth to wear down faster or even chip or crack.  
#2: Shifting Teeth
Although teeth seem solidly in place, they can actually shift when a gap appears in your smile. This can lead to crooked teeth and serious bite problems.
#3: TMJ Problems
When you're missing a tooth on one side of your mouth, you may naturally start chewing more on the other side. This uneven pressure on your jaw joints can lead to stiffness and pain and can even contribute to TMJ disorder.
#4: Increased Oral Health Risks
A gap in the back of your smile can easily trap and collect plaque, bacteria, and food particles. This accumulation increases your risk of cavities, gum disease, and dental infections.
#5: Shrinking Facial Structure
Tooth roots help stimulate bone growth through chewing and biting. When a tooth goes missing, the jawbone no longer receives this stimulation and thus begins to deteriorate. As it shrinks away, the facial bones it supports will start to shift as well, which can lead to a sunken, aged appearance.
How Can I Replace My Missing Teeth?
The good news is you can avoid the problems described above by replacing your missing molar with a dental implant. An implant is a small titanium screw that is surgically inserted into the jawbone beneath the gums. The implant integrates with the surrounding bone to provide maximum support for a crown, bridge, or denture. Implant treatment is one of the most popular tooth replacement solutions due to its many benefits, including:
Natural Appearance
Versatility
Improve Dental Function
Prevents Bone Loss
Long-Lasting
A missing back tooth may seem like a minor inconvenience but it can have a major impact on your oral health. Talk to a dentist today to learn if you could benefit from a dental implant.
About the Author
Dr. Troy Jones has over 30 years of experience replacing missing teeth. An active member of the International Team for Implantology, he provides a full range of restorative treatments in San Antonio, including crowns, bridges, dentures, and dental implants. For more information on modern tooth replacement solutions, visit the Jones & Knights, DDS website or call 210-349-4408.