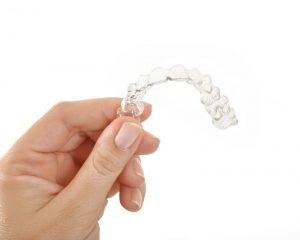 Snapping your headshot for your State Driver's License normally isn't something to stress about, but you cringe at the thought of looking down at your I.D. and seeing awkward wires and brackets gleaming in the picture. Thankfully, evolving your smile to the one you deserve doesn't have to be an embarrassing process whether you're in your teen years or adult life, especially with the alternatives offered by our well known cosmetic dentists Dr. Troy Jones and Dr. George Knight. Jones & Knight, DDS provides an awesome option for those hoping for a matured, sophisticated approach to correcting their smiles: Invisalign in San Antonio, TX.
What is Invisalign?
Invisalign offers a camouflaged alternative to braces that makes dealing with day to day life easier for those wishing to perfect their smile. Our cosmetic dentists in San Antonio, TX design custom clear plastic aligners that are crafted at the Invisalign lab that cater to your specific needs, shifting teeth throughout the treatment. Invisalign does not require any wires or brackets, making them hardly noticeable and allowing you to maintain comfort and self-confidence throughout your treatment. Invisalign may be a great choice for you if you're looking to:
Close gaps within your smile
Correct crooked teeth
Improve either an under or overbite
Why Should I Consider Invisalign Over Braces?
Besides helping to mask an otherwise very noticeable cosmetic process, Invisalign has a few other positive points that top braces. When undergoing the treatment process for braces, you could possibly be required to wear them for multiple years on end. Invisalign typically has a treatment process of 12 to 18 months with checkups required only every 6 months. Also, you have the luxury of removing your Invisalign inserts for short periods of time if you have a special event, participate in contact sports, or are enjoying a particular food. Invisalign offers a certain amount of flexibility combined with comfort that cannot be matched. It is truly the future of cosmetic dentistry in San Antonio, Texas.
What Can I Expect at my Consultation?
Are you still interested? We at Jones and Knight, DDS don't blame you! Invisalign is a great way to enhance your smile while cultivating new found confidence. Our office would be happy to set up an appointment for a consultation in either of our locations with one of our cosmetic dentists. During your appointment, you can look forward to meeting one of our dentists in person, discussing your own personalized Invisalign treatment plan and taking the necessary steps to move forward with beginning a new approach to a bold, bright smile.